Premier Homecare is registered and complies with the Care Quality Commission (CQC) who regulate, inspect and review all adult social care services in the public, private and voluntary sectors in England.
We are rated overall 'Outstanding' by the CQC and was the first homecare and Live-In Care provider in Bristol to receive this top rating.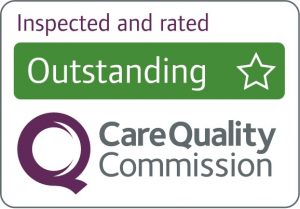 All of the staff at Premier Homecare are trained to the highest standard and regularly receive ongoing training. This ensures you receive the best possible care.
At Premier Homecare we understand that one client's homecare support or Live-In Care needs are not the same as another's. That's why each of our care support plans is tailored with the individual in mind.
The majority of people come to Premier Homecare for care assistance on a private basis. We also work in partnership with Bristol and South Gloucestershire Continuing Health Care (CHC) teams to provide a cost-effective solution for delivering quality and supportive local personalised care to clients in Bristol and the surrounding area.
We offer a free personalised care plan and can answer any questions you have about your needs or your budget.
Call now to talk to our care expert:
"Premier is an excellent company to work for, I came back after 6 years. I wouldn't work for any other care company as Premier care for their staff as well as their service users."
Learn how our comprehensive services and care professionals have helped the improve the lives of our clients