Delighted with Mother's Live-In Care
We are delighted with the Live-in care that our mother receives in her home, due to her ongoing health difficulties.  The carers are patient, kind and very well-trained, and we feel that we can trust them completely with our mother's care needs and medication.  The company can always be contacted easily, and respond and act very professionally in all circumstances.  They also go above and beyond what is required, so that our mother could go out for a special celebration. Having had the experience of using other care providers in the past, we would not hesitate in recommending Premier.
Our affordable Live-In care service is for anyone wishing to remain in their own home. It is a sought-after, positive alternative to residential care and particularly COVID-Safe. It provides total peace of mind for you and your loved ones; the benefits of our Live-In service are immeasurable.
Be more relaxed and less stressed in your own home. Your Live-In package of care is completely tailored to your way of life and around your needs and expectations. Live-In care can range from basic to complex levels of support and companionship.
Choosing care for a loved one is not an easy decision. At the forefront of most peoples' minds are questions about whether the service they choose will fit their particular situation. To make an informed choice as to whether remaining in your own home or moving to a nursing or residential care setting is right for you, you need to know your options. You need to be familiar with the different care services available to you. Our dedicated and expert Live-In Care Manager will be delighted to discuss these options with you, allaying any fears and helping you weigh up your options.
What we offer
The benefits of Premier Homecare 24 Hour Live-In Care include:
Costs comparable with many nursing and residential care homes in Bristol.

COVID-Safe alternative to a residential or nursing home care.

Staying in your own home and maintaining your chosen lifestyle.

An, experienced, dedicated Live-In carer, chosen and tailored to you, providing one-to-one continuity of care.

Fully employed Live-In carers – taking away the worry of training, holiday or sickness cover, employment law, payroll, tax and national insurance etc.

A fully managed quality service encompassing a stringent recruitment procedure including:

Full criminal record and background checks

Holiday and sickness cover, offering constant reliability

Training and ongoing supervision to ensure our exceptional service is maintained

Continual managerial support for both your Live-In carer and you
Mum has found the carers very friendly, helpful and lovely to chat to. The care provided has given the family the peace of mind to know Mum is in safe hands and supported.

Carol L (Daughter of Client)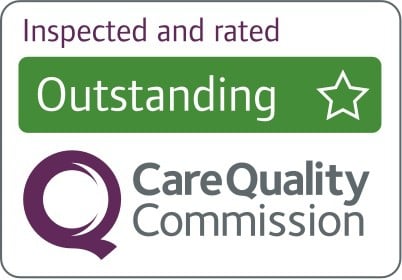 In Safe Hands
Rated Outstanding by the Care Quality Commission we are a local, experienced, caring, friendly and dedicated team with a reputation in Bristol for providing care of the highest standards to our privately funded clients.
Who we support
We are able to provide Live-In care to those who:
Know what your care options are?
Find out more about our 24 hour Live-In Care services.
Call now, or book to talk to our care expert
"The carers were always on time and willing to take on household duties that Mum could no longer manage."