Delighted with Mother's Live-In Care
We are delighted with the Live-in care that our mother receives in her home, due to her ongoing health difficulties.  The carers are patient, kind and very well-trained, and we feel that we can trust them completely with our mother's care needs and medication.  The company can always be contacted easily, and respond and act very professionally in all circumstances.  They also go above and beyond what is required, so that our mother could go out for a special celebration. Having had the experience of using other care providers in the past, we would not hesitate in recommending Premier.
There may be times you feel you need help following a stay in hospital or a period of ill-health. This may be on a temporary basis whilst you recuperate or could be a more permanent arrangement. Whatever the situation, we will be more than happy to discuss your thoughts and requirements with you.
Our Respite Care Team has a wealth of experience in helping to ensure your discharge from hospital goes as smoothly as possible. This includes offering advice and highlighting issues to discuss with members of the hospital team before discharge, which we are also happy to discuss on your behalf.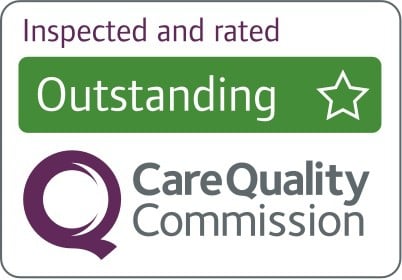 In Safe Hands
Rated Outstanding by the Care Quality Commission we are a local, experienced, caring, friendly and dedicated team with a reputation in Bristol for providing care of the highest standards to our privately funded clients.
Our Homecare Team is here to assist and support you during your recovery. Whether you require assistance with personal care or domestic tasks such as cleaning, laundry or shopping or just a change of scenery, we're here to help.
Know what your care options are?
Find out more about our Convalescence and Respite Care services.
Call now, or book to talk to our care expert
"'there is always someone on the other side of the phone.'"