Delighted with Mother's Live-In Care
We are delighted with the Live-in care that our mother receives in her home, due to her ongoing health difficulties.  The carers are patient, kind and very well-trained, and we feel that we can trust them completely with our mother's care needs and medication.  The company can always be contacted easily, and respond and act very professionally in all circumstances.  They also go above and beyond what is required, so that our mother could go out for a special celebration. Having had the experience of using other care providers in the past, we would not hesitate in recommending Premier.
We know it can be difficult to ask for help with personal care needs.
We can reassure you that all of our staff are selected and trained to ensure your care is carried out in a discreet and professional manner, respecting your privacy and dignity. Moreover, our Carers are all trained to the highest standards of safety to support you throughout personal care. However simple or complex your needs, we will always be able to support you to remain in your own home.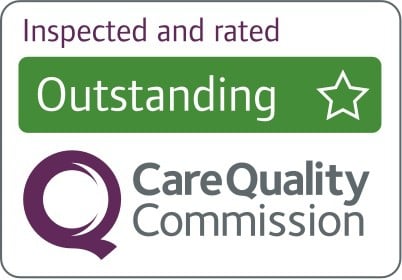 In Safe Hands
Rated Outstanding by the Care Quality Commission we are a local, experienced, caring, friendly and dedicated team with a reputation in Bristol for providing care of the highest standards to our privately funded clients.
What we offer
Here are some examples of what we can provide with our Peronal Homecare Support Service
Support with washing, bathing or showering

Support with shaving, hair washing and cleaning teeth

Skin and pressure area monitoring and care

Toileting and/or support with continence care

Dressing and personal grooming

Support with make-up and facial routine

Support with catheter and stoma care

Assistance with support stockings
We provide visits ranging from 1 hour to 24 hours a day, depending upon your requirements.
Know what your care options are?
Find out more about our Personal Homecare Support services.
Call now, or book to talk to our care expert
"Premier is an excellent company to work for, I came back after 6 years. I wouldn't work for any other care company as Premier care for their staff as well as their service users."