Ready to apply for your Homecare Assistant Job?
"One year ago I joined Premier Homecare, it's the best decision I have ever made I love my job and have support from some of the best people I have had the pleasure to work with."
Apply online below or call to speak to our friendly recruitment team
Job description
We're looking for compassionate and caring people with a genuine desire to care to take on the role of full or part-time Home Care Assistant.
At Premier Homecare we pride ourselves in our high standards of support to our wonderful Home Care Team. We go above and beyond to equip you with everything you need to provide the best care possible to your clients. The Care Quality Commission has rated us 'outstanding', making us the first in Bristol. We are also one of the only providers in Bristol that pays you for all your travel time, plus 45p per mile.
As a Home Care Assistant you'll set an older person up for the day with an hour or more of care and conversation and assist them in their daily lives. You'll assist clients with daily domestic tasks such as making the bed, shopping or preparing meals. Other tasks might be helping your client shower, administering medication or planning their day. On some days your client might want to visit a cafe or local place of interest during the day. You will help them with this, providing much needed support and company, whatever their needs.
You do not need any qualification or previous experience. Our above industry-standard training and ongoing support will ensure you are confident to carry out your role as a Home Care Assistant. However, you will need your own car and full driving licence to visit clients in their homes.
Benefits
As a Home Care Assistant with Premier Homecare you will receive the following benefits:
Extremely competitive hourly rate of £10.50 – £15.00 per hour

All travel time paid at your full hourly rate – not just your client contact time

Additional fuel/car contribution of 45p per mile

Double pay on bank holidays

Company pension & holiday pay

Refer a Friend scheme – £1000 per successful referral

Additional holiday pay worth £750.00 – £1000.00 per year

No short calls – All care visits are 1 hour or more in length allowing you proper time with your clients

Minimum of two weeks paid initial 'shadowing' to help you grow in confidence

Above and beyond paid training and support in your role

Lots of opportunity to progress to a senior care role
Requirements
As a Home Care Assistant you will need:
Your own car and full driving licence

Ideally live in one of the following areas:
We are currently taking applications for Homecare Assistant Job candidates to join us from January 2022 Start to make preparations to join us now by calling our friendly recruitment team or completing our on-line application form.
Homecare jobs at Premier Homecare
At Premier Homecare we pride ourselves on offering the best employment packages in Bristol. If you would like to be rewarded for your efforts come and work for the best Home Care Provider in Bristol.
JOBS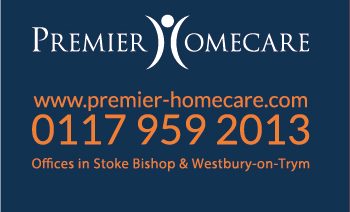 Home Care Coordinator - Monday to Friday 9.00 - 17.00. Premier Homecare's team of 3 Homecare Coordinators...